Invisalign® from Green Dental & Orthodontics
One of the primary concerns people often have about dental braces is the aesthetic impact of the metalwork on their smiles. When you're a child, you're excited about the prospect of getting braces because you don't really think about what others will say about your appearance.
However, when you're an adult, the prospect of wearing unattractive metal braces for long periods of time can be very discouraging. Invisalign® is a nearly invisible aligning system that straightens teeth fast and contains no metal. Here comes Invisalign® for your rescue.
Invisalign's® unique clear aligners are virtually invisible, so you can straighten your teeth without sacrificing your smile.
Invisalign® treatment uses a series of custom-made aligning trays. Each tray is worn for about two weeks and then easily removed. No clips, wires, or impressions are needed because Invisalign® uses a virtually invisible technological approach to straightening your teeth.
The dentist will then file your new tooth, to remove any sharp edges, and then add some temporary cement to hold the crown in place. The dentist changes the trays every few weeks to fit the new tooth configuration.
After about a month, you should be able to eat just about anything you want. Invisalign® is a unique way to straighten teeth because it allows patients to control treatment duration.
Invisalign® aligning trays can be removed for important occasions – meaning that treatment duration is patient-controlled rather than decided by the practitioner.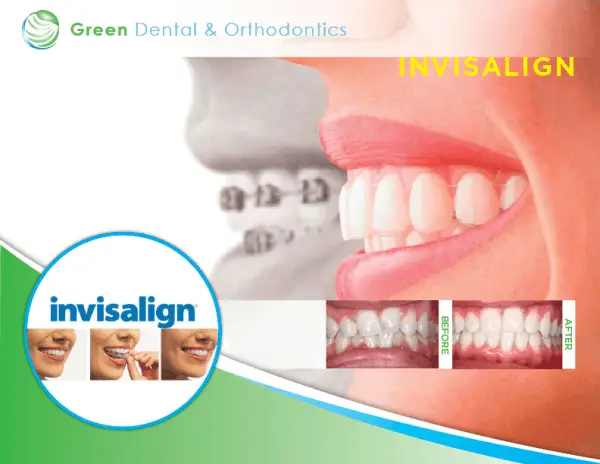 What kind of bite problems can Invisalign® correct?
Invisalign® is a clear alternative to traditional metal braces that align your teeth without the unsightly metal wires and brackets. Invisalign® uses a series of custom-made, nearly invisible aligners that are worn over your teeth, which are designed to gradually move your teeth into place.
Here are some problems that are commonly corrected with Invisalign®:
Overcrowding – Overcrowding is a problem for many dental patients, which can lead to poor oral health. The American Dental Association says overcrowding is when there are more than four teeth on a given

arch

in the upper or lower jaw.
Large gaps between teeth – The reason that there are large gaps between your teeth is that the tooth that was supposed to fill it up didn't come in.
Crossbite – Crossbite is a problem that occurs when the upper and lower jaws do not line up properly. The upper jaw may overlap or drift toward one side of the face.
Overbite – Overbite refers to the upper jaw extending beyond the lower jaw. In other words, the upper jaw protrudes past the lower jaw.
Underbite – An underbite is when the lower jaw is longer than the upper jaw. If a person has an underbite, they may look like they have a deep overbite or a double chin. An underbite can make it difficult to chew, speak, or even breathe.
What advantages does Invisalign® offer over traditional braces and veneers?
Invisalign® offers an almost invisible aligning system that straightens teeth fast and contains no metal. Invisalign® is clear, comfortable, and convenient—you can straighten your smile in as little as a few months.
Invisalign® offers a lot of advantages over traditional braces and veneers.
Firstly, it's much more comfortable because the aligners are made from soft plastic and don't have any metal wires or brackets. Secondly, you can change your aligners every two weeks to get faster results.
Another benefit of Invisalign® is that you can take your trays out for special occasions. This means that you don't have to wait for your treatment to be finished before you go out and celebrate being braces-free.
What does Invisalign® treatment involve?
First, the dentist needs to devise an initial treatment plan before creating the special aligning trays. They'll take X-rays, photos, and impressions of your teeth to create a model in order to determine if you need any adjustments to your bite or if you have any other dental issues that need attention.
Dentists can use these images to plan ahead and predict what the patient's face might look like in a few years' time. It also helps to monitor the growth of the face so that the dentist can determine when it's time to extract baby teeth and replace them with permanent teeth.
Invisalign® is a great product for people who want to straighten their teeth, but don't want the metal braces typically associated with that procedure. These clear trays are made from thermoplastic material and are worn over your teeth. As you wear these trays, they slowly change the shape of your teeth to make them straight.
What are some considerations when wearing Invisalign® trays?
Life with Invisalign® aligning trays may take several weeks to get used to. The trays should be worn constantly, except when eating and drinking. It is important to remove the trays when consuming food or drink because food can become trapped between the tray and the teeth, causing tooth decay.
Usually, new trays are necessary every two weeks, and progress between appointments can be seen with the naked eye. There is no doubt that Invisalign® aligning trays have revolutionized orthodontics. Invisalign® is renowned for being both comfortable and effective.
If you have questions about Invisalign®, please contact our office.