One of the biggest changes to dentistry in the past decade has been the rise of cosmetic dentistry, which is a branch of dentistry that focuses on improving the appearance of your teeth.
People are becoming more aware of their oral health and the importance of their smiles. People have always been concerned about their teeth, but now they're also concerned about their smiles as a whole. They want to have a healthy mouth and a great smile.
6 Month Smiles® is a revolutionary orthodontic treatment that helps you achieve the smile you've always wanted in half the time, often with lower costs. This innovative treatment combines the latest advances in orthodontics with cutting-edge technology to get you out of braces faster without sacrificing quality.
6 Month Smiles® is a rapid orthodontic treatment designed to straighten teeth in just six months. It utilizes shape-memory wires that are engineered to provide exceptional results without unsightly metal braces or having to destroy your natural teeth for the placement of veneers. You can smile big again with clear brackets and tooth-colored wires that are nearly invisible.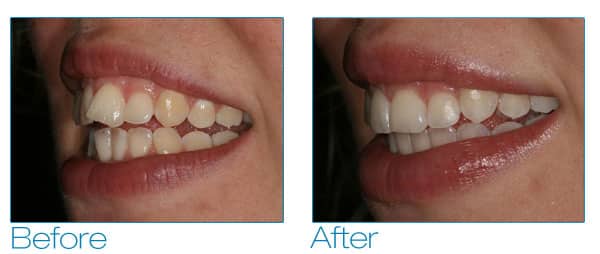 Benefits of the 6 Month Smiles® system
Some of the benefits of 6 Month Smiles® include:
The greatest advantage of 6 Month Smiles® is that most patients only undergo treatment for 6 months.
With clear brackets and tooth-colored wires, the treatment is virtually invisible, providing a discreet alternative to unsightly metal braces.
Patented, shape-memory wires move teeth faster than traditional braces or aligner therapy solutions like Invisalign®.
Patented tray kits allow for quick and painless application.
6 Month Smiles® offer better oral hygiene.
What does treatment involve?
When you come into your initial consultation with our 6 Month Smiles® certified doctor, he will be able to determine whether you're a suitable candidate for Invisalign®. If you are, you will then decide on your treatment plan and can get started on the road to straighter teeth.
After you have decided to pursue treatment, molds of your teeth will be taken and sent to the 6 Month Smiles® laboratory. These molds are used by the laboratory to make your custom-made aligners.
The technicians at 6 Month Smiles® lab manufacture bonding trays, custom-fit to your teeth and sends them back to our office within two weeks. We will then schedule a follow-up appointment, during which the dentist will apply your braces.
Initially, you will need to visit the dentist every couple of weeks, as they'll be adjusting your braces to gradually straighten your teeth. Over time, you'll find that you only need to visit them once a month, or even less frequently. This is because your teeth will begin to naturally move into the right position.
Even though the treatment is quite long, it is actually quite fast when you think about it. Within 4 to 9 months, treatment is finished, with most cases requiring only 6 months of treatment. The retention phase is often the most overlooked yet most important part of orthodontic treatment. Many people believe that once they get their braces off, they're finished with their orthodontic treatment.
If you think the 6 Month Smiles® system could work for you, contact us at your convenience.